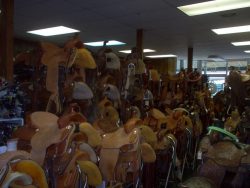 When you're tacking up your horse, you want to make sure you've got the best equipment and accessories, for the sake of your comfort and the animal's. At Moody's Western Wear, we're proud to bring you a vast range of horse tack and farrier supplies in Mitchell, Betts, Ethan, Davison County, and Loomis, SD, to ensure there's no question about the equipment you're buying.
Our selection of tack and horseshoes is ever-changing and always expanding, and you'll find everything you're looking for when you shop with us. Some of the brands you'll find in our shop in Mitchell, SD include:
Working Tack: From horse saddles and spur straps to harnesses and horseshoes, we've got exceptional Working Tack items, priced to give you optimal value. All of these products are stitched, laced and embroidered to the highest levels of quality, to give you peace of mind in your investment.
Classic Equine: If you're looking for cinches, splints, skids and boots, among other support products for your horse, we've got the selection you demand. Moreover, we have a range of sizes and colors to best fit your animal.
Alamo Tack: Blending beauty and purpose, Alamo Tack products are the perfect complements to your horse. We're pleased to carry everything from decorative spur straps to whip lace and more.
In addition to some of the industry's best brand names for horse tack and farrier supplies, we've also got a tremendous selection of both new and used horse saddles. Whether you're looking for brand new horse saddles to replace one that's decades old, or you're in need of a cost-effective replacement for one that's damaged, we've got what you're looking for.
For more information about our selection of horse tack and horseshoes in Mitchell, SD or to inquire about the brand name options we supply, please feel free to stop by our farrier supplies and shoe store today or contact us at 605-995-5879.